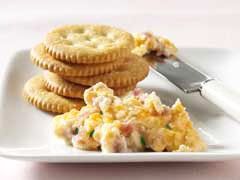 Makes 4-6 Servings
3-4 slices deli ham, cut or torn into 1" pieces
1 pkg cream cheese, softened
1 cup shredded cheese (cheddar, swiss, whatever floats your boat!)
1 tsp cayenne
2 teaspoons Worcestershire
1/4-1/2 cup chopped green onions
Directions:
Oven:
Mix all ingredients together, spread in a pie dish and bake at 350 for 15-20 minutes until hot and bubbly.
Crockpot:
Mix all ingredients together and spread in a crockpot. Cook on low until heated through & bubbly, about 30-45 minutes. Leave on keep warm to serve right from crockpot.
Microwave:
Put cream cheese in microwaveable bowl and microwave for about 45 seconds to 1 minute until soft and mixable. Stir in shredded cheese and microwave another 30 seconds to melt the cheese. Stir again and mix in the rest of the ingredients. Microwave for another 30-45 seconds to incorporate everything.
This is one of my favorite dip recipes! It is the best with Ritz crackers but good on tortilla chips or just about any other cracker you have in your pantry. It's also good on tortillas and rolled up and eaten as is or sliced to make pinwheels. We have this several times during Gator football season!