Tuesday, October 7, 2008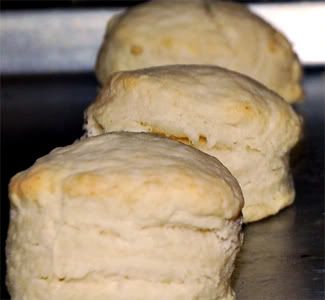 Makes 12 Biscuits
2 cups flour
2 1/2 teaspoons baking powder
1/2 teaspoon salt
1/3 cup shortening
3/4 cup milk
Directions:
Sift together flour, baking powder and salt. Cut in shortening with a fork until mixture resembles coarse meal. Add milk and blend lightly with fork only until flour is moistened and dough pulls away from sides of bowl. Turn out onto lightly floured surface. Knead lightly for 30 seconds and roll 3/4 inch thick. Cut out with 2" round biscuit cutter and place on lightly greased pan. Brush tops with melted butter and bake at 475 for 12-15 minutes until golden brown on top. Brush with additional melted butter if desired.
These have been in my family for years. Good old-fashioned biscuits are one of my favorite comfort foods and if it's hot with butter on it, even better. Paired with chicken noodle soup and you can't help but feel better no matter what ails you. We like to cut hearts out of ours and have biscuits and sausage gravy on Valentine's Day. You can use any cookie cutter if you want, or any size round cutter. We've been known to do Christmas tree shapes on Christmas as well. Yummo!
Monday, October 6, 2008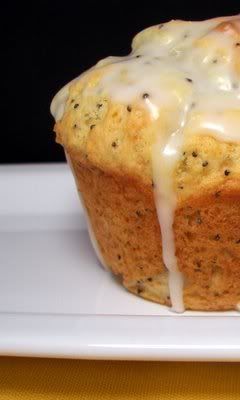 Makes 12 Muffins
3 cups flour
1 stick butter, softened
1 cup sugar
2 eggs
1 1/2 cup plain yogurt
1/2 cup fresh lemon juice
2 teaspoons lemon zest
1 tablespoon baking powder
1/2 teaspoon baking soda
2 tablespoons poppy seeds
dash salt
Glaze:
2 tablespoons fresh lemon juice
1 cup powdered sugar
Directions:
Preheat oven to 375
Stir together flour, baking powder, baking soda, poppy seeds and salt and set aside. In a large mixing bowl, cream butter and sugar together, beating until fluffy (about 2 minutes with an electric mixer). Add eggs one at a time, beating well after each one. Beat in the lemon juice and zest. Beat in dry ingredients and yogurt, alternating 1/2 cups of each, just until incorporated. Grease or use paper-lined muffin tins and fill each cup 2/3 full. Bake 25-30 minutes until golden brown, checking with toothpick test. Remove to a platter and brush with glaze immediately. Glaze: Using a wire whisk, briskly whisk together the powdered sugar and the lemon juice. Drizzle on top of each muffin while still warm.
I love lemon poppy seed muffins and always used to just buy a mix until I tried making them from scratch one day. I fell in love and hardly ever use a box anymore! These are best right out of the oven with a little butter.
I am not exactly sure what was going on with my blueberry muffin recipe. It wouldn't show the post for the longest time...I just fixed it now, and the recipe is up! Sorry about that!
Blueberry Muffins
Makes 6-8 Servings
4 cans chicken broth
2 cups uncooked cheese-filled tortellini pasta
1 can kidney beans, rinsed and drained
2 cups frozen peas
2 tomatoes, cubed
1 tablespoon oregano
1 tablespoon basil
2 tablespoons garlic powder
1 tablespoon onion powder
Dash cayenne
Salt
Pepper
Parmesan
Directions:
Pour chicken broth into large pot. Bring to boil and add tortellini, peas and tomatoes. Boil for 12-14 minutes, until tortellini is cooked through. Stir in remaining ingredients, except parmesan. Season to taste, adding more seasonings if needed. Ladle into bowls and sprinkle generously with parmesan. Serve hot!
This is a soup I just threw together the other night with ingredients I had on hand. My kids all had fevers and sore throats and all wanted soup, but of course this was the one time I was out of chicken noodle soup! This could easily be made into a one-dish meal if you wanted to add some cubed chicken, smoked sausage, cubed beef or even some meatballs if you like. You could also used canned diced, crushed or stewed tomatoes instead of the fresh. I know this can easily be tweaked with different pastas, veggies or seasonings. It's a very versatile base recipe. But it sure came in handy for my sick kiddos!
Posted by

Sunshine
at 10:02 PM
No comments: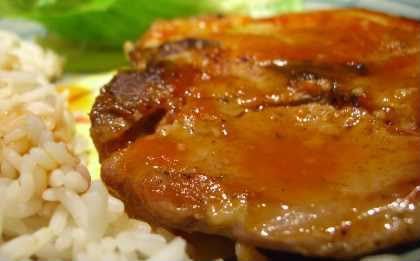 Makes 6 Servings
6 boneless pork chops, 1" thick
1/4 cup brown sugar
1 teaspoon ground ginger
1/4 cup soy sauce
1/8 cup ketchup
1/8 cup hoisin sauce
1 Tablespoon worcestershire sauce
2 cloves garlic, minced
salt
pepper
garlic powder
onion powder
Directions:
Place pork chops in greased crockpot. Combine brown sugar, ginger, soy sauce, ketchup, hoisin sauce, worcestershire, garlic and seasonings in a bowl and mix well. Pour over meat in crockpot and cook on low for 5 hours, or until tender. Season with extra salt and pepper if desired. Serve over noodles or rice.
These pork chops are so tender and moist and just plain old delicious. My husband requests these often, and we usually eat ours over egg noodles or plain steamed rice. Sometimes my husband will fry up some plain rice and we'll eat it on that...the kids love it. 5 hours is exactly perfect for my crockpot--not too tender so they're stringy and falling apart, but not too tough either.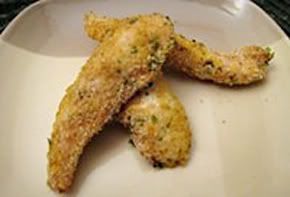 Makes 4-6 Servings
4 lbs. boneless, skinless chicken tenders
1 cup nonfat plain yogurt
1 cup Italian bread crumbs
1 cup flour
2 tablespoons Old Bay seasoning
1 teaspoon garlic powder
1/2 teaspoon creole seasoning
1/4 teaspoon black pepper
1/8 teaspoon cayenne
1/2 teaspoon thyme
1/2 teaspoon basil
1/2 teaspoon oregano
Directions:
Put all dry ingredients in a large ziploc bag and shake well until combined. Put yogurt in a bowl. Dip chicken pieces in yogurt then shake in bag, 1-3 pieces at a time. Place on sprayed baking sheet and bake at 350 for 1 hour, turning pieces after 30 minutes to brown on all sides.
This has been my favorite way to eat chicken since I was a little girl! I used to beg my mom to make this recipe, and I loved shaking the chicken pieces in the bag....but not as much as I loved eating it. I could eat this recipe several times a week and never get sick of it! DOUBLE yum! My kids love it too, what kid doesn't love chicken tenders?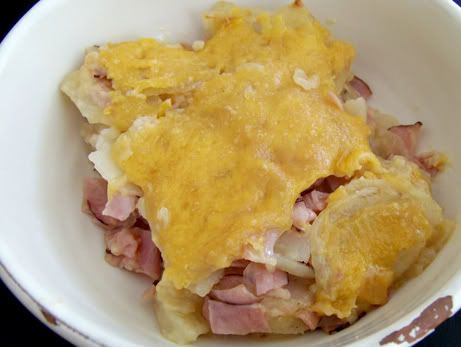 Makes 6 Servings
6 baking potatoes, washed, peeled and thinly sliced
1/2 pound cooked or deli ham, cut into 1" pieces
1 can corn, drained
2 tsp. instant minced onion
1 can condensed cheddar cheese soup
1/2 cup milk
2 Tablespoons flour
2 cups shredded cheese
1 teaspoon salt
2 teaspoons pepper
Directions:
In greased crockpot, combine potatoes, ham, corn and onion and mix well. In a small bowl, combine soup, milk, seasonings and flour and beat with whisk until smooth. Stir in 1/2 to 1 cup shredded cheese. Pour soup mixture over ham and potato mixture and stir gently to mix. Cover and cook on low for 7-8 hours until potatoes are tender. Sprinkle remaining cheese on top and cover until melted.
This is another easy crockpot meal that everyone loves. You can substitute the veggies for any other veggie you like, or omit them altogether. I have used leftover dinner ham before, but in a pinch, the deli ham is easily accessible and just as tasty! I have also used other condensed soup if I am out of the cheese one. Cream of chicken is just as good, in my opinion! If you like yours creamier, you can always add a bit more milk. Seasonings are according to preference. I always have to taste and sprinkle at the end, just before spreading the cheese on top, to be sure it's seasoned enough.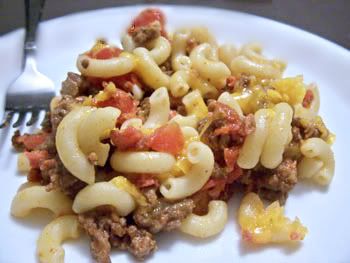 Makes 4 Servings
1 lb. ground beef or turkey
1 1/2 cups water
2 cups uncooked macaroni
1/2 cup milk
2 tablespoons butter
3 tablespoons flour
pepper
dry mustard
2 cups shredded cheese
1 can Italian-style stewed tomatoes
Bacon bits
Directions:
Brown beef (or turkey) in large wok or skillet. Add 1-2 tablespoons butter, depending on how much grease is left after meat. Stir until melted and stir in flour with a fork until well blended and thickened into a paste around the meat. Slowly stir in milk, mixing constantly to avoid lumps. Stir in 1 cup of the cheese until melted and blended. Add seasonings to taste and stir well. In separate pot, boil pasta until al dente. Stir pasta into skillet with meat and toss to coat, adding more milk and/or cheese if needed. Stir can of stewed tomatoes into pasta. Cover with remaining shredded cheese and bacon bits if desired. Cover until cheese is melted and serve.
This is a fairly quick and easy recipe that my kids like. It makes a great weeknight casserole and as long as there aren't any onions in it, my kids will eat it right up!
It's Menu Monday again!
Here's my dinner menu for this week:
MONDAY
Grilled Bratwurst
Sweet Potato Fries
Salad
TUESDAY
Homemade Chicken Noodle Soup
Biscuits
WEDNESDAY
Crockpot Meatloaf
Mashed Potatoes
Steamed Asparagus
THURSDAY
Beer Chili
FRIDAY
Crockpot Peking Pork Chops
Plain Fried Rice
Steamed Corn
SATURDAY
Whole Roasted Chicken
Broccoli & Cheese Rice
Sauteed Green Beans
Yeast Rolls
SUNDAY
Eat out with the inlaws
Just wanted to let you all know I am really sorry for not updating this week. I am still adjusting so some recent news in our family and I haven't been feeling well, and I am just trying to get back into the swing of things and trying to get myself re-motivated to post on here...I love to cook and love sharing recipes, so hopefully I'll be back to my old self soon. Thanks for hanging in there! =)