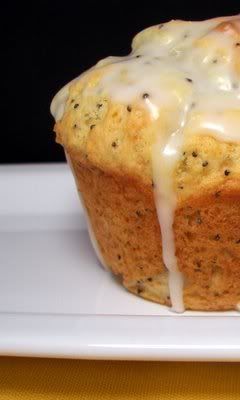 Makes 12 Muffins
3 cups flour
1 stick butter, softened
1 cup sugar
2 eggs
1 1/2 cup plain yogurt
1/2 cup fresh lemon juice
2 teaspoons lemon zest
1 tablespoon baking powder
1/2 teaspoon baking soda
2 tablespoons poppy seeds
dash salt
Glaze:
2 tablespoons fresh lemon juice
1 cup powdered sugar
Directions:
Preheat oven to 375
Stir together flour, baking powder, baking soda, poppy seeds and salt and set aside. In a large mixing bowl, cream butter and sugar together, beating until fluffy (about 2 minutes with an electric mixer). Add eggs one at a time, beating well after each one. Beat in the lemon juice and zest. Beat in dry ingredients and yogurt, alternating 1/2 cups of each, just until incorporated. Grease or use paper-lined muffin tins and fill each cup 2/3 full. Bake 25-30 minutes until golden brown, checking with toothpick test. Remove to a platter and brush with glaze immediately. Glaze: Using a wire whisk, briskly whisk together the powdered sugar and the lemon juice. Drizzle on top of each muffin while still warm.
I love lemon poppy seed muffins and always used to just buy a mix until I tried making them from scratch one day. I fell in love and hardly ever use a box anymore! These are best right out of the oven with a little butter.