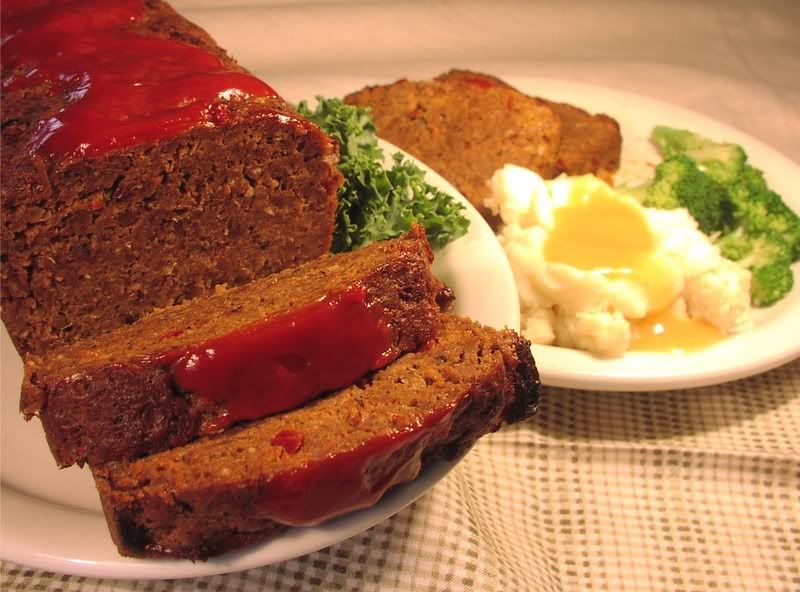 Makes 6-8 Servings
1 1/2 lbs ground round
1 envelope dry onion soup mix
1/2 cup ketchup
1/4 cup water
3/4 cup breadcrumbs
1 large egg
1 cup shredded cheese
1 tablespoon worcestershire sauce
1/4 teaspoon pepper
Topping:
1/2 cup ketchup
1 tablespoon brown sugar
1 teaspoon mustard
Directions:
Combine all meatloaf ingredients and shape into loaf. Place loaf in lightly greased crockpot. Cover and cook on high 1 hour. Reduce heat to low and cook 3 hours. Remove cooker bowl and pour off grease. Return cooker bowl. Combine topping ingredients and spread on top of meatloaf. Cook on low 1 more hour and let stand 10 minutes before serving.
If you like the meatloaf from Boston Market, you will love this recipe! It is easy, of course--do I ever do anything but? And it holds together so well. I like this recipe better than any of my other meatloaf recipes and the fact that it's in the crockpot is EXTRA points! I ♥ my crockpot! It's so easy to get stuff ready in the morning, go about your busy day, and come home to a fresh, hot meal. We love eating this meatloaf with some baked potatoes and a salad or hot vegetable.