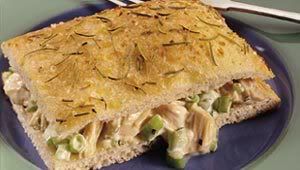 Makes 4 Sandwiches
Focaccia:
1 can pizza crust dough
3 teaspoon olive oil
2 garlic cloves, minced
1 1/2 teaspoon kosher salt
1 1/2 teaspoon dried rosemary
Salad:
1 1/3 cup chopped cooked chicken
1/2 cup mayonnaise
2 green onions, chopped
1/2 teaspoon mustard
garlic powder
onion powder
salt
pepper
Directions:
Preheat oven to 350
Unroll dough onto sprayed cookie sheet. Starting with short end, fold dough in half and press lightly. In a small bowl, mix oil and garlic. Spread over dough. Sprinkle with salt and rosemary. Bake for 20-25 minutes or until edges are golden brown. While that's baking, mix all chicken salad ingredients in a bowl, seasoning to taste. Refrigerate 15 minutes. To serve, cut warm focaccia into 4 pieces. Split each piece to form 2 layers. Spoon and spread salad on bottom halves of focaccia pieces, cover with top halves to form sandwiches.
These are a family favorite and I find myself making these at least once a week. I usually have to triple the recipe for me, my husband and our three children. We usually eat either tater tots or potato chips along with these. Pudding makes a nice cool dessert to this light meal.