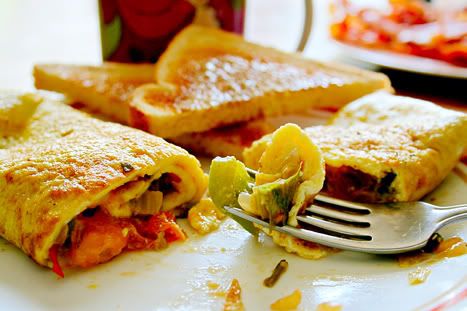 Makes 1 Omelet
2-3 eggs, beaten
1/4 cup each, chopped: green pepper, red onion, green onion, tomato, etc.
1/2 cup shredded cheddar cheese
2T butter
Salt
Pepper
Directions:
On medium heat, melt 1 tablespoon of butter. Saute veggies until crisp-tender, stirring occasionally. Remove sauteed veggies from skillet and put aside in small bowl. Wipe skillet clean of residue. Melt other 1 tablespoon of butter over medium heat and pour in beaten eggs, spreading around pan evenly. Cook to desired doneness. Sprinkle with salt and pepper. Add sauteed veggies and cheese along the center of the omelet. With a wide, flat spatula, flip right side of omelet over filling. Repeat, folding right side over again, allowing omelet to "mesh" and cheese to melt. Carefully use spatula to remove to plate, sprinkle with additional cheese or seasonings if desired and eat!
These omelettes are to die for. My poor husband gets nagged to make them for me all the time! We eat them at least once a week. We mix it up with different veggies, and/or meats, like 1/4 cup cubed ham or ground sausage, and different sides like toast or english muffins and sausage links or bacon. This is an extremely versatile dish because you can customize the filling and seasonings to anything you're in the mood for! We like to make a Mexican version with peppers, ham, sour cream and salsa. We have freshly brewed coffee with a few splashes of some flavored creamer and some good old Florida orange juice to top off this great breakfast. Delicious!