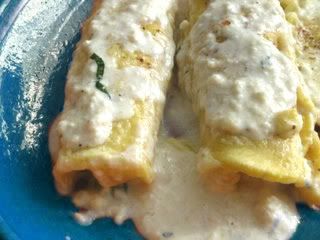 Makes 10-12 Servings
16 oz. manicotti pasta, cooked
3 boneless skinless chicken breasts, cut into pieces
1/4 cup butter
Filling:
2 tablespoons grated Parmesan cheese
10 oz. frozen chopped spinach, thawed and drained
1 cup ricotta cheese
1 egg
1 teaspoon basil
1
teaspoon
oregano
1
teaspoon
parsley
1
teaspoon
garlic powder
Sauce:
1/2 cup butter
1/2 cup flour
2 garlic cloves—finely minced and made into a paste with kosher salt *see below*
4 cups milk
1 cup heavy cream
1/4-1/2 cup grated Parmesan cheese
Salt and pepper, to taste
Parmesan cheese
Directions:
Preheat oven to 350
Saute chicken breasts in 1/4 cup butter in large skillet until slightly browned. Remove from fat and drain well. Melt 1/2 cup butter in saucepan along with the minced garlic paste. Use wire whisk to blend in flour; slowly add milk, a little at a time, whisking after each addition. Cook and stir over medium low heat until sauce is thickened and smooth. Stir in heavy cream and cheese, stirring until melted and combined. Add seasonings to taste. Put chicken in a large bowl and cover with about 1 cup of the sauce. Stir and let rest. Stir together 2 tablespoons of the parmesan, spinach, ricotta, egg and seasonings. Using your fingers, a fork, or narrow tongs, put one to two slices of chicken in each tube. Spoon about 2 tablespoons of moist filling into each Cannelloni on top of chicken, making sure each tube is well filled—I usually use frosting tubes or a baster for this part. Place in 13x9 pan, repeating until all pasta and filling is used up. Spread sauce on top, covering all the pasta, letting some spill over the sides and in between pasta. Sprinkle each layer with grated Parmesan cheese. Bake at 350 degrees for 30 minutes until sauce is bubbly and top is lightly browned. Serve with additional parmesan.
Garlic Paste:
2 minced garlic cloves
2 teaspoons kosher salt
Mash together until a paste forms. Takes a few minutes so be patient!
I myself prefer to use flat pasta noodles and place all the filling in them, roll up and place seam side down in the pan, but I have to shop at the Italian market for that and manicotti is easier to find and works just as well. I've also done it with lasagna noodles in a pinch. You can of course use pre-made alfredo sauce if you'd rather.