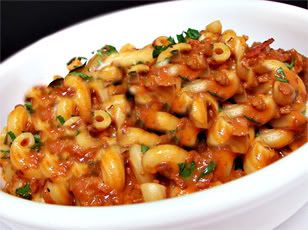 Makes 4 Servings
2 cups uncooked macaroni
1 lb ground beef or ground turkey
1 10oz. can of diced tomatoes with chilies
1 15oz. can of tomato sauce
1 can chopped green chilies
1/2 cup chopped white onion
1/4 cup chopped green onion
1 clove garlic, minced
1/2 teaspoon ground red pepper
1/2 teaspoon cumin
1/2 teaspoon chili powder
2 tablespoons parsley
2 cups shredded cheese (Cheddar, Monterey Jack or Pepper Jack are best!)
Directions:
Cook macaroni according to package directions. Brown the meat in a large skillet. Drain and return to skillet. Add minced garlic and both onions and saute until veggies are tender. Add rest ingredients except cheese and macaroni. Stir well and then stir in macaroni and 1 cup of cheese until well coated. Pour into a greased 13x9 dish and sprinkle with remaining cheese. Bake at 350 for 30 minutes.
*NOTE: You can skip the baking step if you are short on time. Just simmer in skillet for 15 minutes and then sprinkle with cheese and serve.
This is a delicious and easy dish that I can throw together on a weeknight in 30 minutes or less. I serve it with either some fresh bread or cornbread and a salad. It is a tad on the spicy side, so if you don't like yours that spicy, you can easily omit the green chilies and the spicy seasonings. I have also mixed in 1/2 cup of chopped green peppers to mine, adding them at the same time as the other veggies. My husband likes to put sliced jalapenos on his. Delicious!