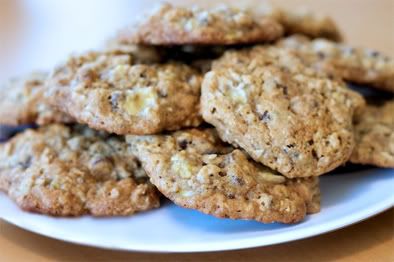 Makes 2 Dozen Cookies
1/2 cup quick-cooking oats
2 1/4 cups flour
1 1/2 teaspoons baking soda
1/2 teaspoon salt
1/2 teaspoon cinnamon
2 sticks butter, softened
3/4 cup brown sugar, firmly packed
3/4 cup sugar
2 teaspoons vanilla
1 teaspoon lemon juice
2 eggs
3 cups chocolate chips
1 1/2 cups chopped pecans or walnuts
Directions:
Preheat oven to 350.
Cream butter, sugars, vanilla and lemon juice. Add eggs, one at a time, beating until mixture is fluffy. Add oats, flour, baking soda, salt and cinnamon, stirring well after each addition. Add the chocolate chips and nuts and mix well. Scoop by rounded tablespoons onto greased cookie sheet or parchment paper-lined cookie sheet and bake for 16-18 minutes.
These cookies are a combination of my two favorites, Oatmeal Raisin and Chocolate Chip. I've added 1/2 cup of raisins to the dough as well and it tastes very good that way. I love these cookies warm out of the oven with a tall glass of milk. The cinnamon flavor in combination with the oats and chocolate is so delicious and really makes it feel like fall! Store in a sealed container and they stay nice and chewy.